Source: The Advertiser, Wednesday 29th June.
Covid-19 restrictions will once again impact the Coonawarra's annual winter festival, but wineries are still stoking the fires and dusting off their vintage drops in preparation.
Just days out from its annual winter festival, Coonawarra wineries are dusting off the bottles and stoking the fires and organisers say
new Covid restrictions
 will not stop them.
Last year Cellar Dwellers was limited to seating tastings with Victorian's locked out and Coonawarra Vignerons events and marketing officer Heidi Eldridge said it will forge ahead with 50 events throughout July despite Monday's announcements.
Ms Eldridge said it would work with wineries to adapt events in line with density caps and vertical consumption rules but said it would be "devastating" if border closures impacted the event again.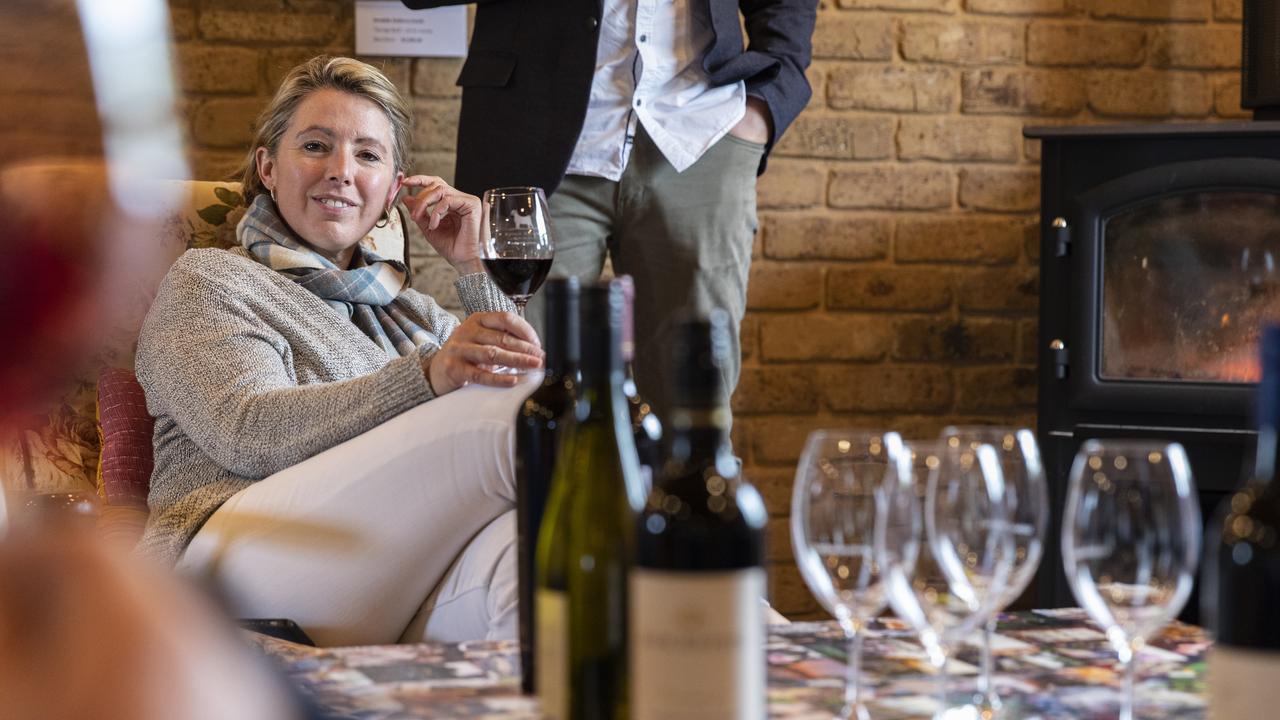 The 2021 Cellar Dwellers will go ahead despite new Covid restrictions. Picture: Coonawarra Vignerons
"The reason we could offer Cellar Dwellers in its simplest format last year was based on the fact it was all about pouring aged wines at cellar doors," Ms Eldridge said.
"As long as people can still come to cellar doors, then essentially Cellar Dwellers is still there and active and ready to go."
Despite the lack of cases in regional SA, Ms Eldridge said the restrictions were disappointing yet essential to protect guest at events designed to entice visitors from Melbourne and Adelaide.
"The reality of our region is that we are right on the border of Victoria," she said.
"We do have to be cautious, there is that level of risk there, whilst people might think it's unfair that it applies to us, the reality is people are frequently moving between the metropolitan areas.
"Unfortunately, that then impacts our attendance and that's not ideal given that this month is created to generate a bit of extra visitation to the region."
Ms Eldridge said the events would showcase the region's vintage drops giving people a chance to taste museum and limited release wines not normally served at the cellar door.
"This year we're back to the full extensive program which is a combination of dinner events, lunches, high teas, a bonfire evening at Bellwether, we have a collection of wineries that are going to go down to Mount Gambier for a wine festival," she said.
"There's blending sessions, there's making your own curries and sourdough, combined with a long lunch."
It's been a challenging 18 months for the region which straddles the Victorian-South Australia border and Coonawarra Vignerons patron Doug Balnaves said events like Cellar Dwellers were key to increasing visitation during the South East winter.
Doug Balnaves, Coonawarra Vignerons patron. Picture: Jessica Ball
"If you can speak to anyone in tourism in the South East, I suspect they all find in July is possibly the most difficult month," Mr Balnaves said.
While he said it could be difficult convincing Adelaideans to make the trek with international borders closed, the Coonawarra was enjoying the domestic tourism boom with a pleasing amount of 'no vacancy' signs.
"Across the country, the people who might be normally in Bali or Europe or somewhere are all here," he said.
"I think most of us would agree our figures have been rather astonishing. "You do have to wonder, how long it will last but at the moment it's good."
But Mr Balnaves said the border closures had taken a toll. "We do miss the Victorians, it's hard to say that," he said. "We'll all be very pleased when the borders are completely open but we've got to live with it in the meantime."
Coonawarra Vignerons chief executive Ockert le Roux said Victorian visitors were crucial to the region and border closures were instantaneously felt at the cellar door.
Ockert Le Roux, Coonawarra Vignerons executive officer. Picture: Coonawarra Vignerons
Moving forwarded he hoped to entice tourists from Melbourne to continue past the Great Ocean Road or the Grampians. "Half of our traffic in Coonawarra comes from Victoria, in particular Western Victoria," Mr le Roux said. "There's a lot of people that just turn around at that point. "Seventy per cent go back the same route that they came from another 30 per cent go inland and to the northern Grampians and then back.
"I think when you reach a tipping point where there is a critical offering that starts to develop in a certain region then people will start to be motivated to come down here."