Wine & Dine in Coonawarra
Dive into our local insights of where to eat in Coonawarra with our top suggestions for dining, whether it be an intimate dinner for two, a gourmet experience or a casual affair with the Coonawarra community.
The quaint towns of Penola and Coonawarra offer a range of casual and formal dining establishments and food outlets. From South Australia's number 22 best-ranked fine dining restaurant, Pipers of Penola, to the multi-award winning Royal Oak Hotel Pub and the ever popular Windara Bakery.
Local eateries place great emphasis on using seasonal and local produce. The list of fresh Limestone Coast ingredients is limited only by the seasons, but the passion that goes into producing clean, green local produce is guaranteed year-round.
Where to eat in Coonawarra
Upstairs at Hollick
The first winery restaurant in Coonawarra, Upstairs at Hollick has elevated views through the floor to ceiling glass over the Hollick "Neilson's Block" vineyard and across Coonawarra. It is open Friday to Tuesday for lunch and Saturdays for dinner at 6pm serving modern Australian cuisine with love for local ingredients and produce.
Enhance your experience with an Immersion package that'll take you behind the scenes in the winery, before tasting wines with the winemaker and then settling in for a culinary journey featuring locally sourced produce matched with Hollick Estate Wines.  Learn more here.
Open for Lunch 7 days a week from 12noon | Dinner  Friday, Saturday& Sunday night from 6pm. Sunday Night is Curry Night with dine-in and takeaway available
Cnr Riddoch Hwy & Ravenswood Lane, Coonawarra
https://www.hollick.com/en/restaurant
Ottelia Restaurant
This dynamic space is a casual dining spot in a fellow Coonawarra winery, serving sourdough pizzas and seasonal dishes made with fresh veggies from the estate in a food-to-share vibe. Open for lunches Daily 10.30am until 3pm. Priority is given to bookings, so please be sure to plan ahead to ensure that you don't miss out on dining at one of our most favourite restaurants.
5 Memorial Drive, Coonawarra
https://www.fodder.net.au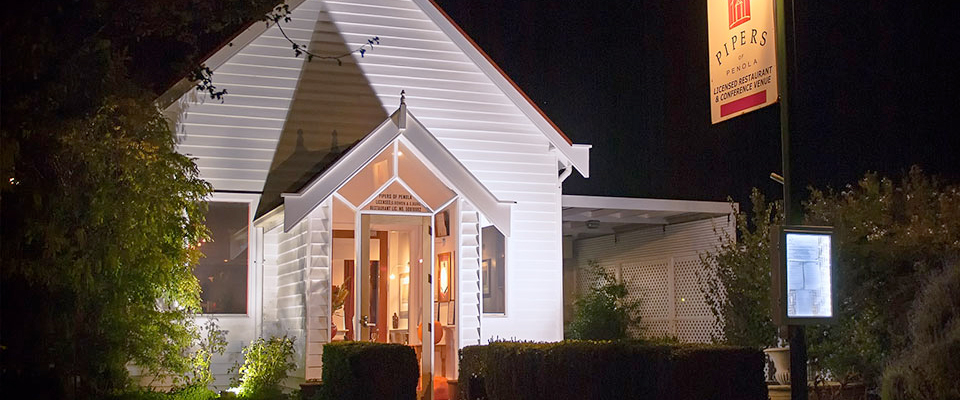 Piper's of Penola
This is a brilliant local Coonawarra restaurant run by Simon & Erika Bowen. It specialises in local produce, crafted into contemporary dishes such as organic pork croque monsieur and roast duckling with hazelnut Brussels sprouts. The wine list is a who's in the zoo of all the great Coonawarra/Limestone Coast wineries. Not open all week so be sure to check opening hours to avoid disappointment.
58 Riddoch Street, Penola
http://pipersofpenola.com.au
Coonawarra Community Club
Head to the Coonawarra Community Hall on the last Friday of every month for its fun Tea Night. Pub style meals available to order cooked up by Coonawarra Community Club members.
Have a yarn with the every day, grassroots people of this fine region. Mix and mingle with the wine growers, the winemakers, the cellar door staff, the viticulturists, the farmers, the store owners, the teachers and their families, and so many more.   As authentic as it gets!
The Club is open every Friday Night for drinks from 5.30. Dinner from 6.00pm.
Memorial Drive, Coonawarra
Chardonnay Lodge
Chardonnay Lodge is situated in the heart of Coonawarra surrounded by vineyards.  Many years of experience have created an atmosphere of uniqueness with the main building's spectacular architecture, extensive established lawn and garden areas, also featuring superb regional cuisine served in the district's most renowned restaurant –  casual dining at its best.
Open for lunch from 10:30 am til 3 pm Friday to Tuesday and for Dinner Friday, Saturday and Monday from 6pm.
15006 Riddoch Highway, Coonawarra
http://www.chardonnaylodge.com.au/
Royal Oak Penola
The Royal Oak chefs focus on seasonal menus in this original stone corner pub in the heart of Coonawarra. Winner of the 2019 Award of Excellence for Best Restaurant in a Pub for South Australia, by Savour Australia, this is a great option for a relaxed and enjoyable meal with family or friends. 11am-8pm, 7 days.
31 Church St, Penola
https://royaloakpenola.pub 
View the full list of local eateries including cafes, pubs and takeaway outlets here.