Australians love a good road trip! We love nothing more than packing up the car and going to visit friends and family or exploring parts of the country we've never been to before. This year we're being encouraged to holiday in our own backyard, so there's never been a better time to head on an adventure and discover Australia. Whether you're driving between Melbourne to Adelaide,  or you're visiting Coonawarra itself, there are lots of things for you to do and see in and around the region.
Our home of Coonawarra in South Australia's Limestone Coast is famed for its red wine and rich terra rossa soil, but the area has much more to offer. Of course, that doesn't mean we don't want you to stop in at our regions Cellar Doors sample some of the wines as you are travelling around, but there's also some great places to explore in the surrounding towns. We unearth the must-see things to do and visit whilst passing through Coonawarra.
Penola
Penola is a picture-perfect country town rich in tradition and full of hidden treasures. It is  the oldest and most central town in the Limestone Coast. Nestled within the Coonawarra wine region it has a fascinating history and smorgasbord of food and wine experiences. Stop in at Koonara Wines in the main street to taste a local drop or two and venture on to explore boutique shops, cafes and restaurants. Treat yourself to a fine dining experience you won't forget at one of South Australia's top restaurant's Pipers of Penola. Discover the town's fascinating history on the heritage walk or relive the days of yesteryear at historic Petticoat Lane. Penola is also famed as the home of Australia's first saint, Mary McKillop and the special centre created to honour her life is well worth a visit.

Mount Gambier
Call in at Mount Gambier, just 50 minutes from Coonawarra, and the halfway point between Melbourne and Adelaide. Mount Gambier is a geological wonderland, home to extinct volcanoes, dazzling sapphire waters and an underground Garden of Eden. Mount Gambier's Umpherston Sinkhole is a beautiful sunken garden set in a collapsed limestone cave now blanketed with flowers, plants and lush green grass, thanks to a few local green thumbs.  We suggest having lunch at Presto Eatery or at least just pop into this charming café for a coffee. Afterwards, stretch your legs by taking the walk around the Blue Lake. This impressive lake is in a volcanic crater and the water turns cobalt blue in summer – it's simply stunning. Take is some super stunning views, from the historic Tower at top of the Valley Lake district. You'll have worked up a hunger by this point and you can't go past the famous The Barn Steakhouse for dinner. Ordering is simple, just pick your favourite aged cut of steak and a great bottle of red – we assure you there is no shortage of wines to choose from, including a great range of premium Coonawarra reds.  The Barn has accommodation, too, which is handy after a dinner as good as this.
Image Source: Discover Mount Gambier
Robe
The idyllic coastal town of Robe has long been a popular summer holiday destination for South Australian families. It's just over an hour's drive from Coonawarra and its the beach town of choice for many Penola/ Coonawarra locals. There is nothing like spending some quality beach time with the kids and the pooch. You can't go past Robe's famous 'Long Beach' stretching 12km, and the best part – you can drive right on to the sand along the beach! It's a great spot for surfing, snorkelling, fishing and four-wheel driving.
After our day at the beach, we recommend you head to The Caledonian Inn, better known as The Cally, for some good pub grub and a pint. This historic sandstone pub first got its license in 1858 and is great any time of the year. During the summer you can enjoy the beer garden and catch some live music; in winter you can warm up by the open fire with a glass of your favourite Coonawarra wine. We never leave Robe without stocking up on some freshly caught rock lobster and fish from Sky Seafood – it is the best around.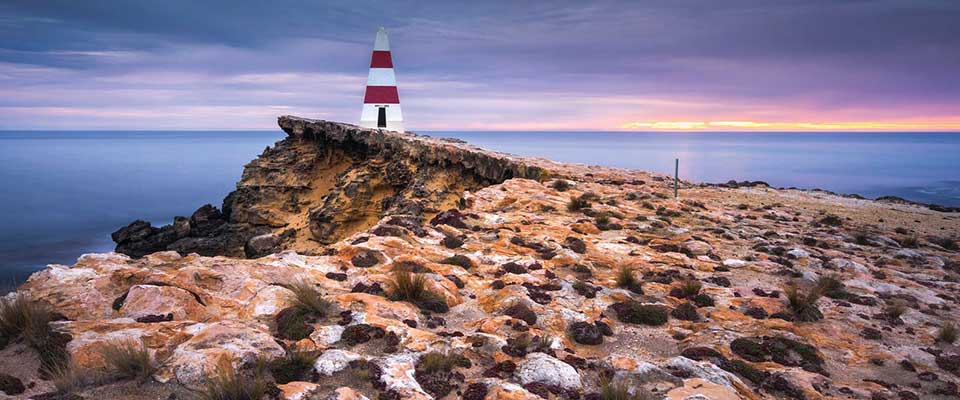 Image Source: South Australia
Coonawarra
From Robe, its time to cruise on into Coonawarra. We wouldn't recommend any less than a day to explore our region with more than 24 cellar doors scattered along one convenient stretch of road.  If you feel like stretching your legs, and making the most of the fine weather, take a stroll through the vines on the Coonawarra Wineries Walking Trail.
Visit up to 6 cellar doors including Redman Wines, Brand's Laira Coonawarra, Ottelia/Fodder, Wynns Coonawarra Estate, DiGiorgio Family Wines and Zema Estate. It's a fun way to taste some of the best wines the region has to offer. Pick away at a produce platter or settle in for a long lunch at Fodder in the Coonawarra Township, or Upstairs at Hollick and take in the views over the vines. Settle in for the night at one of the many idyllic B&Bs or glamp in a luxurious Bell Tent surrounded by 500+ year old red gums.
Image Source: Coonawarra Walking Trail
Naracoorte Caves
The World heritage-listed Naracoorte Caves are located only 20 minutes north of Coonawarra. An underground wonderland awaits with fascinating fossils and limestone formations and you don't have to be a geologist to enjoy the incredible cave structures and colours. Join a guided tour, where you'll be led through underground chambers dripping with glistening stalactites and stalagmites. After your cave experience check out fossil adventure playground that is right next to the visitors centre. The park features a maze of tunnels and dig pits and would have to be one of the best playgrounds you will come across between Naracoorte and Adelaide.

Image Source: South Australia